3 steps to complete the MAT Counselor Education Course:
READ and study the Chapters identified in the Exam Questions Packet for each part.
ANSWER the questions using the online Answer Sheet (70% correct to pass).
PRINT the completion certificate that is automatically emailed to you
TEXTBOOK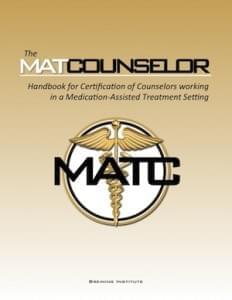 The MAT Counselor
Handbook for Certification of Counselors working in a Medication-Assisted Treatment Setting
Publication date: 2010
Publisher: Breining Institute
228 pages
$49.70 (includes shipping to US addresses)
Select book cover, above, to order The MAT Counselor textbook.
SYLLABUS
MA-1901P1: MAT Counselor Education Course, Part 1 (10 hours)
Course material: Chapters 1 through 7
$29
Includes primer on opioid addiction and treatment, history of opioids and opioid treatment, science and rationale for opiate agonist treatment, pharmacology, pharmacotherapy, screening, admission, assessment, and behavioral pharmacology of methadone.
Part 1 EXAM QUESTIONS PACKET
Part 1 ANSWER SHEET
MA-1901P2: MAT Counselor Education Course, Part 2 (15 hours)
Course material: Chapters 8 through 16
$29
Includes counseling and referral, counseling services in MAT programs, stages in MAT from a counseling perspective, counseling issues in methadone maintenance treatment, take home medication issues, co-occurring mental health issues, working with people with disabilities, and methadone and pregnancy.
Part 2 EXAM QUESTIONS PACKET
Part 2 ANSWER SHEET
MA-1901P3: MAT Counselor Education Course, Part 3 (15 hours)
Course material: Chapters 17 through 20, Appendix
$29
Includes opioid maintenance, effectiveness of methadone as a medical treatment for opioid addiction, a review of outcomes in methadone treatment, and ethical considerations in MAT.
Part 3 EXAM QUESTIONS PACKET
Part 3 ANSWER SHEET
CONTINUING EDUCATION (CE) CREDIT
Any or all parts of this course may also be completed for continuing education (CE) credit.